Campbells Valuations – Epsom
Map Unavailable
Date/Time
Date(s) - 31/10/2019
11:00 am - 2:30 pm
Location
Campbells Jewellers, Epsom
Categories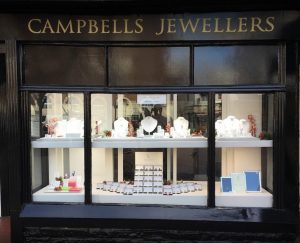 Join Campbells Jewellers, Epsom for their Jewellery and Watch Insurance Valuation Day on Thursday 31st October 2019.  We assess all types of Jewellery – from Georgian and Victorian wonders to the latest brands and styles.  I'll be there to complete all your valuation needs, including those for Insurance, Probate and Private Sale.
Why do I need a Valuation?
Research has established that about 6 million homes in the UK have under insured their valuables.  When was the last time you had your precious items checked?  Being under insured could result in your Insurer not paying out in the event of a claim.  If your most recent valuation is over 3 years old, then it's worth having it updated to ensure you're not at risk.
How does it work?
You drop your items to Campbells the day before (30th October), though you can leave them before this date too. You can then collect your items from 4pm on the Valuation Day.  Items will NOT be accepted on the day unless you have booked an appointment.
On the day we'll steam and ultrasonically clean your items (where relevant) to ensure they are sparkling, ready for appraisal.  Next Karra fully assesses your items to capture all the information needed to deduce a value.  This includes the method of manufacture, the approximate age, hallmarks and condition of the mount.  If Gemstones or Diamonds present then these are assessed for colour, clarity, cut and carat, along with many other factors.  Finally your treasures are then photographed from different angles to capture their beauty for your Document.
We aim to have your finished document prepared around seven working days from the Valuation Day; however this may take longer with more complex items or large valuations.  We can also provide PDF copies as well as hard copies if required – just let us know.
The Document provided arrives bound in a black leather grain folder, complete with an A4 page per item with colour digital images.  These are legal documents which are perfect for Insurers or Brokers, Solicitors or for HMRC.  To view a sample Document, click here.
What does it cost?
Valuations for Insurance start from £110.00, with Probate at £120.00.  Click here to view our Fees.
Ensure to book in advance for their Insurance Valuation Day as spaces fill up fast!